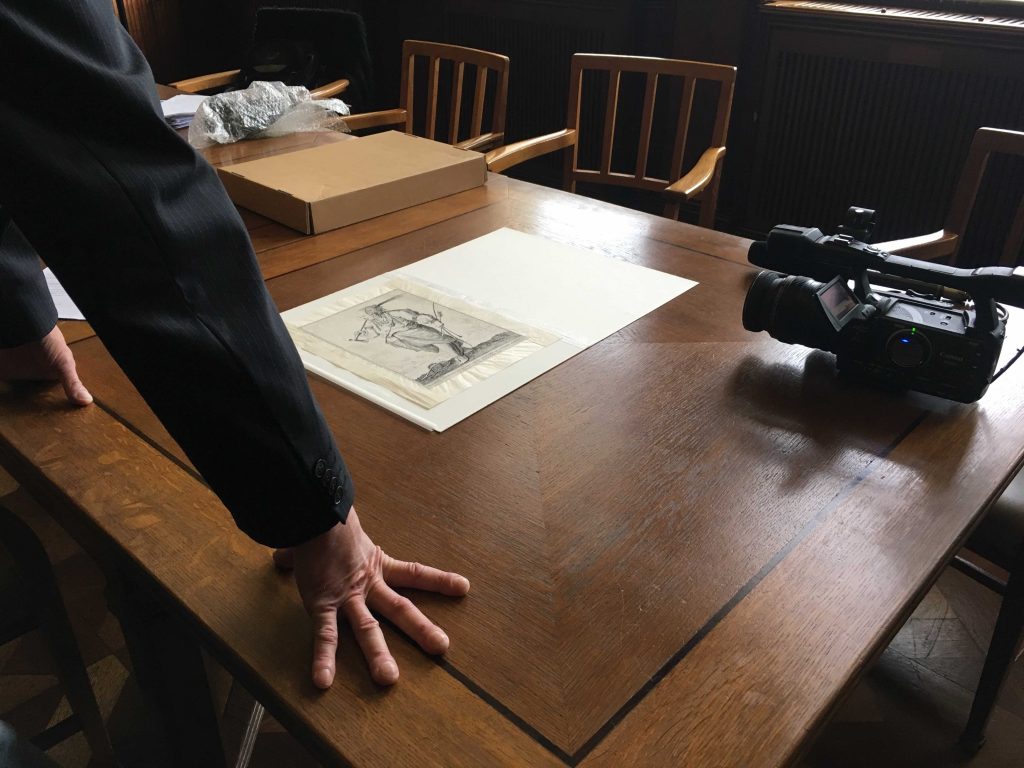 Sychnecta was a Mohawk, whose name means 'on the other side of the pines' or 'beyond the pines' because of the nomitative root -neht' (pine tree). There is nowadays a location called Skahnéehtati which is known as Schenectady, about 14 miles northwest of Albany, New York in the Mohawk Valley. According to a letter by Sir William Johnson from February 3, 1764, Sychnecta and another Mohawk were brought to England by a certain Blessius and a certain Klock and his nation desired that this journey be stopped and "justly apprehend they go on no good Design" (Sullivan et al. 1921-1965,4:316-317). General Thomas Gage in New York City also refused Blessius's request stating to Johnson that "No private Grants of Land whatever will be allowed of, and we must take every Measure necessary to prevent it" (Sullivan et al. 1921-1965,4: 325; cf.353) cited in Transatlantic Encounters: American Indians in Britain, 1500-1776 by Alden T. Vaughan (2008:181).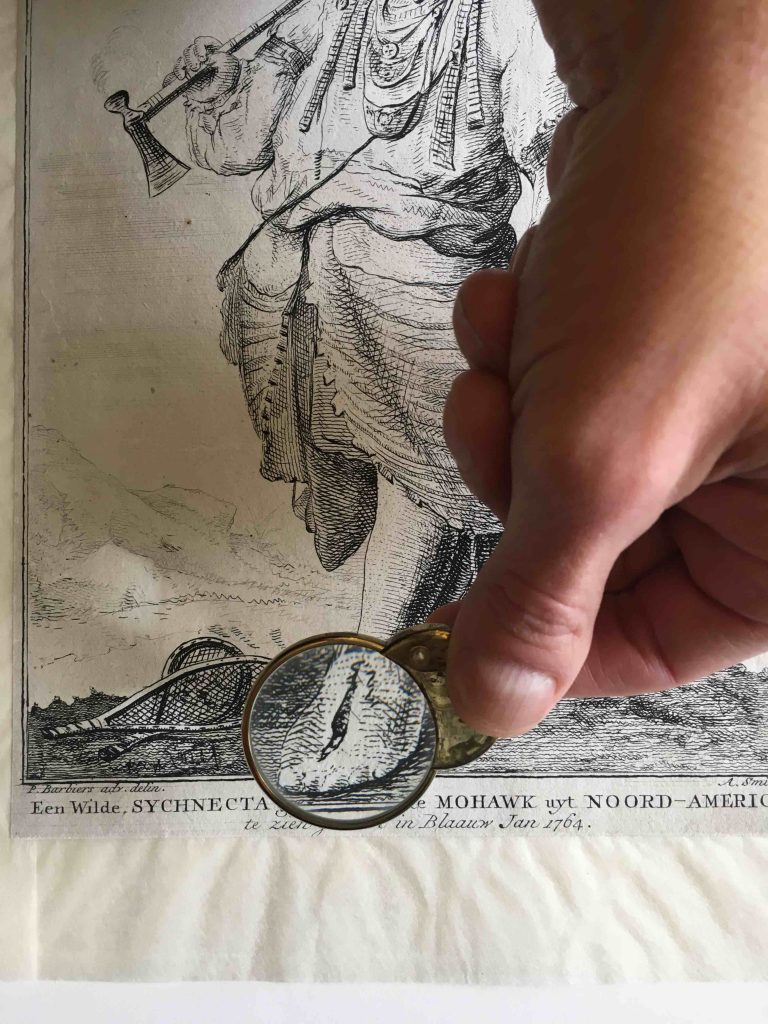 "While Johnson's suspicions of Klock's and Blessius's motive for taking Sychnecta and Trosoghroga to England – to secure or confirm a private land grant – was reasonable, latre documents suggest that this was not their actual or at least their only motive, which was to make money through the public exhibition of the two young Mohawks" (Vaughan 2008:181). This is what happened to Sychnecta, and the image shown here is drawn from life. In the fall of 1764, Sychnechta was 'exhibited' in the herberg Blaauw Jan on the Kloveniersburgwal (78?) along with other 'exceptional people' such as giants and dwarfs. This practice of exhibiting 'exotic' peoples from unknown lands in European port cities existed since the early 1600s. Amsterdam was no different in this respect and it was the owner of the Blauwe Jan, the widow of Anthonie Bergmeyer, who 'purchased' him from the merchants.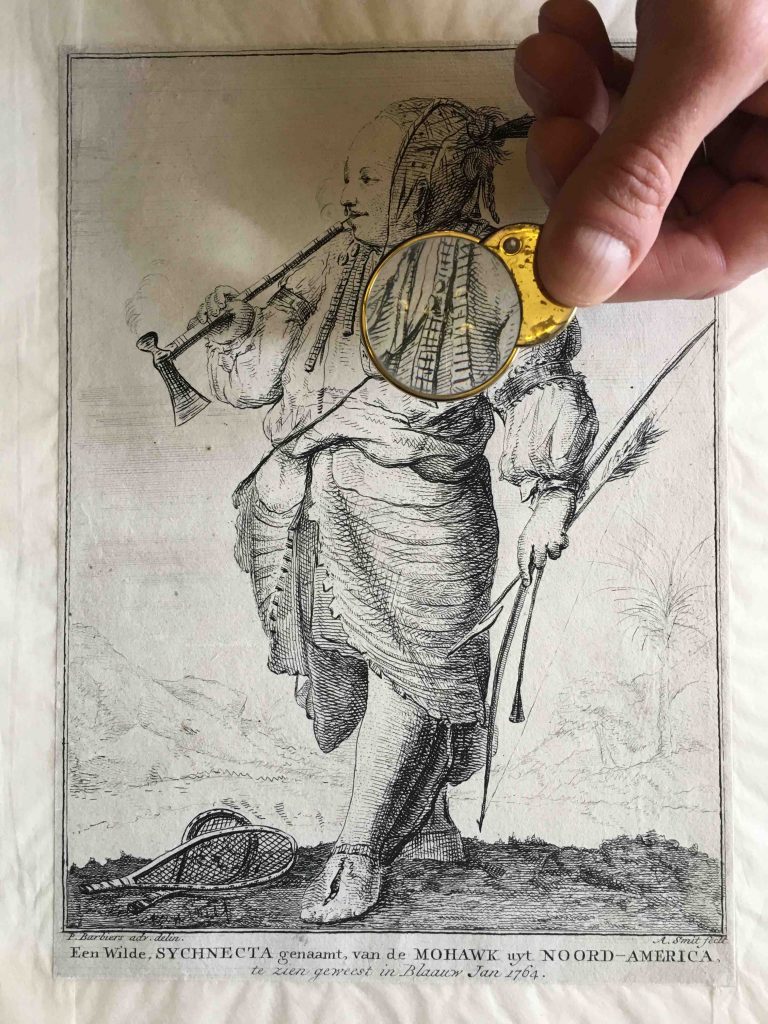 Pieter Barbiers (1717-1780) drew Sychnecta and in order to reach a larger public, A. Smit made a print from this drawing which is now part of the Dreesmannn collection in the Gemeentearchief in Amsterdam. Sychnecta is portrayed with a pipe-tomahawk, a bow and arrow along with a pair of snowshoes. He also wears a wampum belt, along with jewellry as ornament decorated with wampum, including his shoes. Eventually the English ambassadeur Sir Joseph Yorke mediated his freedom to return first to London, unfortunately his transport envoy, a certain Meyers attempted to exhibit him there as well but was caught. Sychnecta arrived in New York on June 1 and was escorted by Sir William Johnson back to the Upper Mohawk Castle of Canojoharie, located near present-day Indian Castle, New York. Here's an image of present-day Blauwe Jans in Amsterdam.
Thanks very much to Kees Waterman and the Stadsarchive in Amsterdam for access and permission for reproduction.